Armed with the revised Environmental Protection Law, China's new attack dog in the war against pollution is cracking down on environmental lawbreakers at unprecedented rates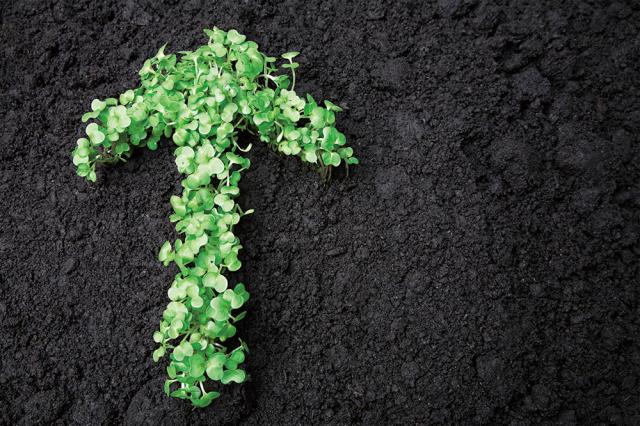 I
n January 2015, 51-year-old Chen Jining became China's youngest ministerial- level official. After a three-year stint as president of the elite Tsinghua University, he was appointed as Party chief of the Ministry of Environmental Protection (MEP) and became head of the agency the following month. Speculation, however, abounded over whether the relatively young Chen was ready to take up such a heavy mantle.
Chen put these doubts to rest within the first year of his tenure. During the annual meeting of the National People's Congress (NPC) in March, he publicized his ministry's accomplishments from the past year: it started supervising and examining environmental protection activities in 33 cities, it publicly called upon the mayors or Party chiefs of 15 of those cities to take tougher actions against polluters and it issued more than 97,000 administrative penalties with fines totaling about 4.25 billion yuan (US$651m), a 34 percent increase year-on-year.
His actions were made possible with the help of the revised Environmental Protection Law (EPL) enacted in January 2015 and the August 2015 regulation that called for the punishment of officials who fail to support new environmental standards. Both of these "bolstered the work of the MEP," said Chang Jiwen, deputy director of the Research Institute of Resources and Environment Policies under the State Council's Development Research Center.
Experts say the ministry has become increasingly aggressive since Chen first took the MEP reins. They predict that environmental protection measures will only grow stricter in the years to come.
In the past, the ministry's weakness had placed environmental protection inspectors in an awkward position. They had given themselves a self-deprecating motto: "No guns, no cannons, just trumpets sounding the attack."
Chen did not want the MEP and its new EPL to be a "paper tiger." "A good law cannot just be a piece of paper," Chen said of the revised law shortly after he assumed office. He wanted this tiger to have teeth. On March 16, 2015, Chen ordered a massive investigation into environmental violations nationwide, particularly for those enterprises that had started construction projects before receiving the proper approvals. The MEP also started to strengthen cooperation with public security organs, procuratorial departments and courts of law.
After the revised EPL took effect, it became much easier for environmental inspectors to do their jobs, according to Li Zailong, head of the environmental monitoring department's labor union in Zhengzhou, Henan Province. As an example, he explained that on June 5, 2015, World Environment Day, he went to a county within Zhengzhou to investigate potential violations at five different enterprises, and the heads of all five met with him personally, admitted their misdeeds and readily accepted punishment, promising to tighten management.
"In the past, businesses wouldn't typically cooperate like that," Li said. "We often encounter strong resistance; a lot of the time, it's hard for us to even enter the premises… We've even had dogs set on us and bricks thrown at us."
In 2015, however, environmental agencies across the country inspected 1.77 million enterprises, penalizing 191,000 of them, demanding 34,000 to close and instructing 89,000 to make rectifications within a certain period of time. In addition, police were notified of the businesses allegedly responsible for a total of 1,685 pollution-related crimes so that they could conduct further investigations.
"Before, it was very rare for environmental violation cases to be referred to public security offices," Li remarked. "[This change] shows the power of the new EPL, which has also strengthened the determination of environmental protection agencies."
Since he took the helm last year, Chen has played a proactive role in environmental protection and issued nearly 100 regulations and supporting documents that would help make the implementation of the new EPL a smoother process, said Lü Zhongmei, deputy director of the China Association for Environment and Resources Law. In addition, Chen pushed for the reform of China's environmental impact assessment (EIA) system, Lü told NewsChina. Previously, the MEP was responsible for environmental examinations and approvals as well as enterprise supervision, generating a gray area ripe for corruption.
At a February 28 news conference, Chen announced that the MEP had disentangled itself from eight EIA agencies by the end of 2015. "Environmental protection agencies at different levels nationwide have disconnected from 140 EIA agencies, and 200 more EIA institutions need to cut ties with environmental protection groups in 2016," Chen said.
Of the 1,100 accredited EIA agencies in China, 422 have violated laws and regulations, according to the MEP, with illegal EIA activity most common in the energy, chemical engineering and real estate sectors.
Chen pledged that every link between the MEP and EIA groups must be broken, especially in regards to personnel and finance. "Resistance from many sides has been strong – [by cutting ties] we are cutting down on our own resources," he said. "But we are firm and unshakeable on this." 
In March, the MEP also streamlined its own operations with a department reshuffling that optimized resource allocation. It closed several branches, including the offices of pollution control and pollution emissions control, and established several new departments, such as water resources management and soil management.
Before the EPL was revised, authorities could only punish environmental lawbreakers through administrative means, Lü Zhongmei told NewsChina. However, the revisions have introduced judicial force, particularly the environmental public interest litigation system, as a means to keep potential violators in line. More than 500 environmental protection courts have been set up nationwide and a growing number of public interest lawsuits are being lodged, Lü said. In 2015 alone, nearly 300,000 environmental lawsuits were filed in courts across the country.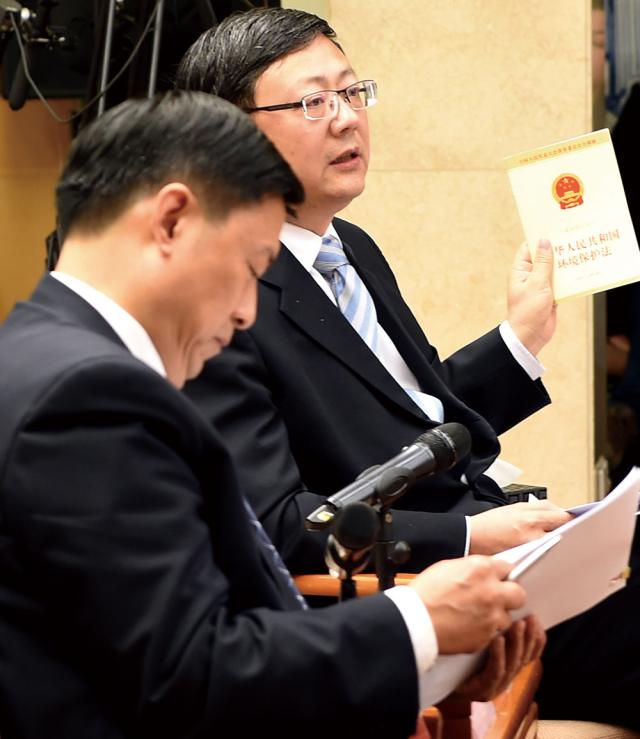 Minister of Environmental Protection Chen Jining at a press conference in Beijing, February 18, 2016 / Photo by CNS
In the past, the MEP has generally avoided ordering State-owned enterprises (SOEs) to take measures to protect the environment; very few large-scale SOE projects have been halted due to environmental concerns.
During the NPC convention in 2014, Zhu Lieyu, NPC deputy and head of Guangdong Guardian Law Firm, said that the MEP has been silent about the illegal pollution emissions of some SOEs, including the China National Petroleum Corporation (CNPC) and the China Petrochemical Corporation, and has not dared to take action to stop their violations.
Last year, however, some SOEs and government projects finally found themselves on the MEP chopping block. On March 30, 2015, the MEP put a stop to the Xiaonanhai Dam because of environmental concerns. The hydropower project would have been located on the ecologically vulnerable upper stretches of the Yangtze River, within the municipality of Chongqing. The official release said the dam was being constructed in a government-protected natural reserve for rare fish, and demanded that the project be halted.
The project had been in the works for more than 20 years and the Chongqing municipal government had been pushing to start construction since it received preliminary approval from the National Development and Reform Commission on February 4, 2012. Roughly 32 billion yuan (US$4.9bn) had been invested in the dam, which was a key engineering project for the city.
The second major strike against polluting SOEs came on October 20. The environmental protection agency of Lanzhou, Gansu Province, revealed that Gansu's local joint enterprise formed by the State-owned China National Cereals, Oil and Foodstuffs Corporation and the Coca-Cola Company had provided fake data to the environmental watchdog. The enterprise's chief managers were detained for five days.
On November 5, the MEP ordered the CNPC's Sichuan branch to undergo specific rectifications and reforms within a limited period of time, and the public security bureau recorded its illegal discharge of emissions for further investigation and prosecution.
Chen told our reporter that some officials still hold onto the idea that environmental protection and economic growth are fundamentally at odds, and some believe protecting the environment is a burden that will cut into GDP growth.
"Industries don't pollute, companies do," he told NewsChina. "Only when we eliminate polluting enterprises can we pave the way for better businesses to grow and avoid letting bad money drive out good money. This has been the experience of other countries, and it is also how it will be for China."
The MEP researched the relationship between environmental protection and economic growth in several cities in the provinces of Zhejiang, Hebei and Shandong, publishing a report with the findings last September. It said that some strict environmental protection measures could diminish economic growth in the steel, cement and thermal power industries in the short term, but they will eventually boost the modern service sector and thus help China move toward its goal of industrial upgrading.
In February 2015, inspectors from the MEP urged the acting mayor of Linyi, Shandong Province, to crack down on companies that have violated environmental protection regulations. Five days later, the city suspended production at 57 heavily polluting enterprises.
According to Ge Chazhong, a senior official with the Chinese Academy for Environmental Planning, the total cost to control air pollution in Linyi is 970 million yuan (US$149m) but the environmental benefits will amount to 1.65 billion yuan (US$253m). "This clearly shows that the environmental benefits of air pollution control in Linyi will outweigh the economic costs," he said.
Ge told our reporter that it is very common for environmental measures to cause a short-term economic downturn, especially when the economy and the environment are so inextricably linked. If stricter environmental regulations have economic effect, it's doubtful those regulations are being effective, he added.
Despite a relatively successful first year on the job, Chen told NewsChina that the MEP still faces many challenges. Businesses' environmental infractions show no signs of slowing down, while local-level environmental protection agencies lack resources and manpower.
China's battle against pollution, he said, is a "protracted war," and the path to victory is one of slow, steady improvements. "China's environmental situation won't improve through radical action or inaction," he said.
text