"If we had taken measures earlier, controls would have been better and the influence would have been smaller nationwide," said Wuhan's former Party secretary Ma Guoqiang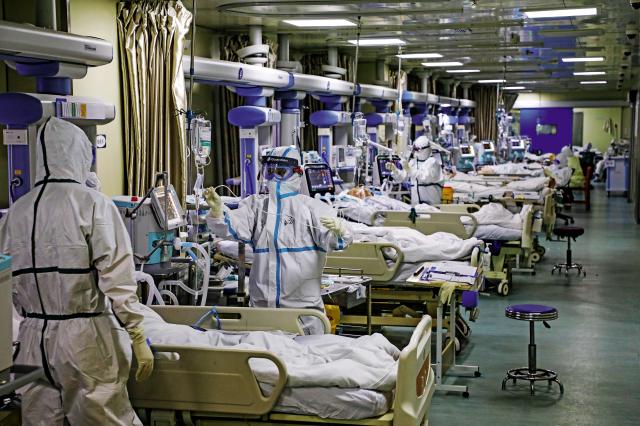 The Covid-19 epidemic overwhelmed China at what is usually a time of celebration and family reunion. With much of the country under quarantine, NewsChina reports on how thecrisis unfolded and its economic and societal ramifications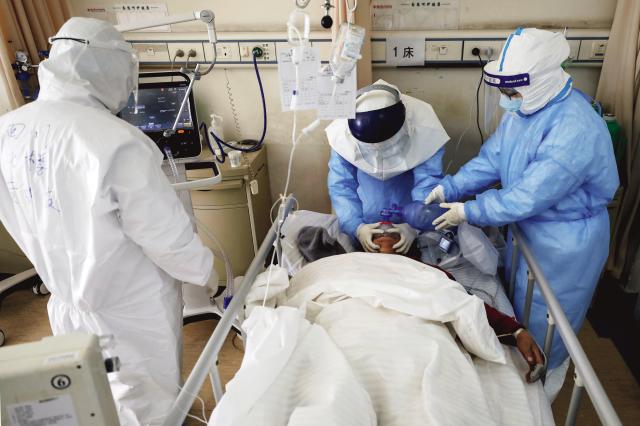 Doctors and nurses treat a severely ill patient, Wuhan Red Cross Hospital, February 17
C
hina took to the internet in the early hours of February 7 to mourn the death of Dr Li Wenliang, an ophthalmologist in Wuhan, Hubei Province who died of novel coronavirus pneumonia (Covid-19). He contracted the disease while treating a patient.    
Li was among the eight people in Wuhan, at least four of whom were doctors, to sound the alarm over the 2019 novel coronavirus, now officially named SARS-CoV-2 by the WHO. Local police took Li away for questioning and charged him with "spreading rumors."    
Netizens honored Li as a "whistleblower," and called for an official apology and explanation as to why Li's alert was labeled a rumor.    
Li first sounded the alarm on December 30, 2019 in a WeChat group of schoolmates. Most were working in hospitals. He posted that his hospital had quarantined "seven SARS patients" from the city's Huanan Seafood Wholesale Market. He later wrote it was an unidentified coronavirus. A member of the WeChat group shared his message on social media.    
The following day, officials from the Wuhan Municipal Health Commission (WMHC) and police criticized Li. The police later forced Li to sign a letter of reprimand promising not to spread rumors.    
During this time, the WMHC confirmed 27 pneumonia cases related to the Huanan market but said experts had not found any evidence of human-to-human transmission and that no medical personnel had been infected.    
Controls were not tightened until respiratory disease expert Zhong Nanshan, who contributed greatly to the 2003 campaign against SARS, was sent to Wuhan. He revealed on January 20 that the virus could be transmitted between humans and that 14 medical workers were infected.
Confirmed and suspected Covid-19 cases have since soared in Hubei Province and Wuhan. Many could not access treatment due to a lack of hospital beds. At time of press, the virus had claimed the lives of over 2,445 people in China, mostly Wuhan. More than 77,000 have been infected nationwide.    
"I feel rueful and guilty now. If we had taken measures earlier, controls would have been better and the influence would have been smaller nationwide..." Wuhan's former Party secretary Ma Guoqiang said during an interview with China Central Television (CCTV) on January 31. Ma was removed from his post on February 13.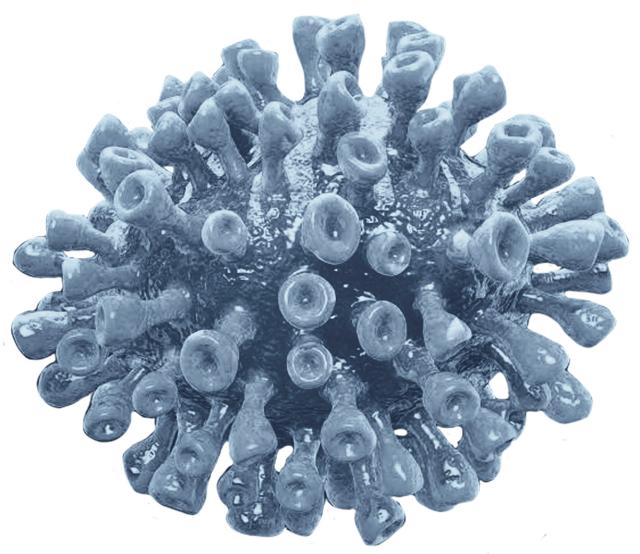 Experts confirmed in January that the virus SARS-CoV-2 shows similarities with SARS-CoV (the official name for the virus that causes the disease SARS), adding that it might have originated in bats and then spread to other animals.    
The statement aligned with reports that a majority of the first batch of cases either visited or worked at the Huanan market which sold wild animals such as snakes, groundhogs, deer and monkeys. With around 600 vendors, the market is close to a railway station and two residential communities.    
Although initial Covid-19 cases were reportedly exposed in early December 2019, the market was not closed down until January 1, 2020. The same day, CCTV reported that Wuhan was experiencing an outbreak of pneumonia of an unknown cause and that police had punished eight "Wuhan residents" for "spreading rumors" about the virus.    
"At the preliminary phase of the epidemic, Wuhan's policy was to downplay," Lin Yu (pseudonym), a doctor at the Wuhan Union Hospital affiliated to Tongji Medical College of Huazhong University of Science and Technology, told NewsChina. He said that his hospital, located in Wuhan, forbade personnel from talking to the press without authorization. "Controls on information were even tighter in clinical departments, infection management departments and centers for disease control and prevention (CDC)... In short, we were not allowed to say anything about the virus... All doctors could do was tell patients to wear masks and encourage them not to visit the Huanan market by saying the food there wasn't fresh," he said.    
From January 6 to 10, the WHMC reported no new Covid-19 cases. Over that period, Wuhan held its municipal people's conference.    
On January 11, the WMHC announced 41 cases of Covid-19 in Wuhan, but still claimed medical personnel were not infected and there was still no conclusive evidence of human-to-human transmission. The day before, Wang Guangfa, a member of the national medical expert team who went to Wuhan, and who works at a top hospital in Beijing, told media that the epidemic was "preventable and controllable."    
Wang discovered that he had contracted the virus after returning to Beijing. In a January 30 interview with the Beijing Youth Daily, Wang said he suspected he was infected by a patient in a crowded Wuhan clinic. Though wearing a protective suit and a mask at the time, he did not have goggles.    
Wang said he and his team, which was in Wuhan from January 8 to 15, had puzzled over whether SARS-CoV-2 was transmissible between humans. The WMHC stated on January 15 that while experts could not rule out the possibility of limited human-to-human transmission (transmission from generation-1 carriers to generation-2 carriers), the risk of continuous transmission (transmission to generation 3 or above carriers) was low.    
"Any conclusion should be scientific and supported by enough evidence... We actually were on high alert at that time, but lacked enough case studies," Wang told the China Youth Daily. "We were clear that the epidemic in Wuhan might have been serious by the time we returned to Beijing... We warned hospitals not to make patients wait at the fever clinics... Yes, the number of the cases [reported before January 16] was underestimated," he said.    
Despite the statement on January 15, the WMHC suspended the case report from January 12 to 17 when Hubei Province was holding the provincial two sessions, annual legislative meetings.  
The public did not take notice of Covid-19 until countries such as Thailand and Japan confirmed cases and said that those infected had recently been in Wuhan. Some Chinese netizens asked how Covid-19 was spreading across borders while no new cases were being reported at home.
The WMHC resumed issuing reports on January 18, confirming 63 cases in Wuhan. The figures, however, did not prevent the local government from holding a massive Chinese New Year banquet on the same day. Held annually in the Baibuting residential area, about 40,000 families attended the pot luck-style banquet.    
According to the Economic Observer, a weekly paper headquartered in Beijing, people living in 33 of the 55 sections in a community that attended the banquet developed a fever. Another community had at least 10 confirmed Covid-19 carriers.    
"We held the banquet based on the information that human-to-human transmission was limited, so we weren't alert enough to it," Zhou Xianwang, mayor of Wuhan, told CCTV on January 21.
As Wang indicated, experts had a clearer idea about the virus and epidemics than the public. According to media reports, the Wuhan Institute of Virology (WIV) under the Chinese Academy of Sciences obtained the gene sequence of SARS-CoV-2 on January 2 and isolated the virus on January 5. On January 11, WIV submitted the gene sequence to the World Health Organization.
Chinese experts rushed to publish papers on SARS-CoV-2 in journals such as The New England Journal of Medicine and The Lancet. Media reported that by the end of January, Chinese scientists had published at least six papers in these two journals.    
One that appeared in The New England Journal of Medicine on January 29 by a team of experts including China CDC director Gao Fu, however, triggered controversy. The paper, which examined 425 Covid-19 cases, stated: "There is evidence that human-to-human transmission has occurred since mid-December 2019." Among the 425 cases confirmed before January 22, only 55 percent were traced to the Huanan Seafood Wholesale Market.    
"The paper suggested that the China CDC might have obtained evidence of human-to-human transmission in early January... So, at what link in the chain was the information covered up?" Wang Liming, a professor at Zhejiang University, asked on Sina Weibo. His post was shared thousands of times, with many blaming Gao Fu for putting academic achievement over his job of epidemic prevention.    
Gao issued a response through the media, saying the paper was a review rather than a study of the previous cases and that the onset time was inferred. China CDC also delivered a similar statement on January 31 claiming that the paper's study was "retrospective" and that all 425 cases had been made public before January 23.   
Netizens were not convinced. Some pointed out that the paper also revealed that the China CDC issued a "level-2" emergency alert about SARS-CoV-2 on January 6 and that there were seven medical workers infected between January 1 and 11 – none of which was made public at the time.    
Amid the outcry, China's Ministry of Science and Technology released a statement on January 30, demanding that departments and scientists prioritize the State's and people's interests over publishing papers.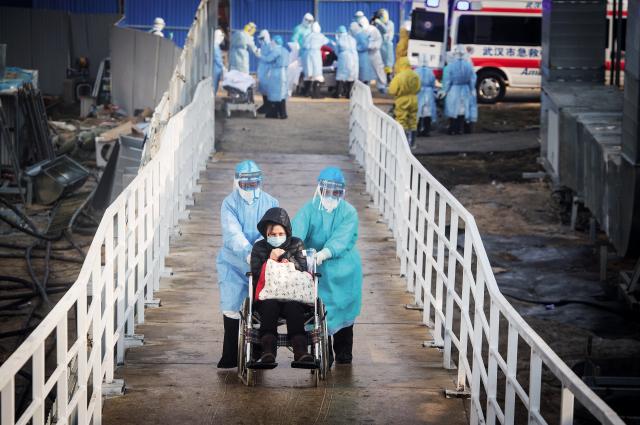 Medical workers at the new Huoshenshan Hospital in Wuhan transfer patients to wards on February 4, the first day the hospital opened for admissions
Some netizens, however, believed that experts were not to blame. Suspicion circulated that government departments concealed the data from the public to avoid creating widespread panic and negatively impacting the economy as the Chinese New Year approached.  
"We are not allowed to publish information about the epidemic outbreak without [higher-level] authorization," Wuhan Mayor Zhou Xianwang told CCTV on January 27.    
China's disease control laws only authorize the State Council and approved health departments at the provincial, municipal or autonomous region level to release information about epidemics.
According to Yang Gonghuan, the China CDC's former deputy director, the organization set up an online reporting system in 2004 one year after the SARS outbreak – that enables hospitals nationwide to directly report suspected cases to CDCs at all levels. The China CDC also appointed a special team to monitor the system. Once the number of reports reports of pneumonia cases of an unknown cause exceed five, the system automatically flags the area. The China CDC then dispatches personnel to investigate and collect samples.    
"The system does not require reports through levels... Once a hospital reports a case, we can see it immediately," Yang told NewsChina.    
Timely reports though, do not mean timely releases. Zeng Guang, chief scientist at the China CDC, said the organization is not a decision-making body and "only has the right of work," such as collecting and analyzing data. "Compared to the US CDC, which is a government department, the China CDC is only a government-backed organization and has no power... It is not allowed to talk about an epidemic without authorization," he told NewsChina.    
Huang Yanzhong, director of the Center for Global Health Research, explained that CDCs at all levels focus solely on technical work and that corresponding health commissions limit their power.    
By press time, no officials from the National Health Commission or local health commissions in Wuhan and Hubei had addressed public questions surrounding the postponed release of information.
January 20 was the turning point for the Covid-19 outbreak in Wuhan. The WMHC reported 136 new cases confirmed on January 18 and 19, and for the first time did not include "limited human-to-human transmission" and "low risk of continuous humanto-human transmission" in its statement.   
The same day, Zhong Nanshan told CCTV that SARS-CoV-2 is transmissible between humans and that 14 medical workers were infected while treating a virus carrier.   
According to Wuhan Mayor Zhou Xianwang, the infections had occurred at the neurosurgery department of the Wuhan Union Hospital affiliated to Tongji Medical College of Huazhong University of Science and Technology where surgeons "ignored" a patient's Covid-19 symptoms before operating on him.  
However, a neurologist working at the same hospital denied the accusation online, saying the patient did not show any symptoms of a respiratory tract infection until three days after the operation.   
A medical worker with the neurosurgery department supported the claim, saying that the patient, 69, went under the knife on January 7, two days after the WMHC claimed there was no obvious evidence of human-to-human transmission and no medical personnel had been infected. "In that case, who would have known to quarantine the patient and apply higher-degree protection?" asked the medical worker, who spoke to NewsChina on condition of anonymity.   
Dr Li Wenliang contracted Covid-19 in a similar way. According to his Weibo account, he began showing symptoms on January 10 and was hospitalized on January 12. Li believed he was infected while giving an eye exam. His patient did not develop a fever until the day after the eye exam.   
The news sparked public fury toward Wuhan and Hubei officials. Because Covid-19 is thought to have a maximum incubation period of 14 days (although some experts say it could be longer in some cases), many argued that health workers would have been better protected if the government had gone public with the information earlier.  
"Even though the local government has no right to publish information about epidemics without authorization, they could disseminate other relevant information, such as prevention measures," He Yuan, executive director of the data-related Law Research Center at Shanghai Jiao Tong University, told the Nanfang Metropolis Daily.   
But most in Wuhan did not start wearing masks until January 21, said Guan Yi, a virologist at the University of Hong Kong, who visited the city from January 21 to 22. He told financial portal Caixin that he was "shocked" how people still crowded in local vegetable markets and "his jaw dropped" when he saw tour groups at the local airport.   
As Guan booked a ticket to leave Wuhan, Hubei's top leaders, including the Party secretary and governor, attended a Spring Festival performance. Among the 40 performers, several "had a cold," according to an official report.   
Wuhan was locked down on January 23. But since the Spring Festival travel rush had begun two weeks earlier, around five million people had already left the city, Mayor Zhou Xianwang said.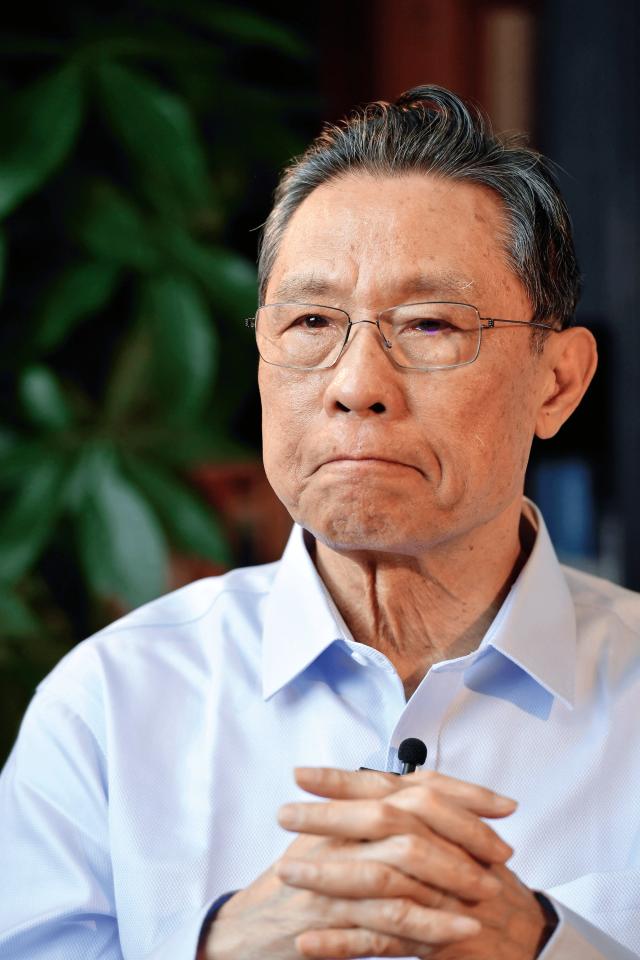 Zhong Nanshan, leader of the scientific research team for Covid-19 prevention and control, said on February 2 that he supports the conclusion that SARS-CoV-2, the novel coronavirus that causes Covid-19, originated in bats, but said that more research is needed to confirm if there is an intermediate host