Researchers around the world are working on vaccines targeting the novel coronavirus, although many details of the fatal contagious disease, including its origin and transmissibility, remain unknown
'
'Right now, it behooves us all if someone presents with a respiratory pulmonary involvement and fever to just ask them a question. Have you been in China recently? And if so, you put a mask on the person, you put them in an isolation room, and you contact the [US] CDC."   
The extract is from a podcast conversation between Dr Anthony Fauci, an expert in infectious diseases and director of the US National Institute of Allergy and Infectious Disease (NIAID), and Howard Bauchner, editor-in-chief of the Journal of the American Medical Association.    
Over the past two months, a novel pneumonia with unknown etiology erupted in Wuhan in Central China's Hubei Province and garnered the attention of the world. The 2019 novel coronavirus, named SARS-CoV-2 by the World Health Organization (WHO), is the largest known virus of its type. A coronavirus has been responsible for two other severe epidemics. In 2003, 8,098 people were infected with SARS-CoV, which caused Severe Acute Respiratory Syndrome (SARS), of whom 774 died, a death rate close to 10 percent. In 2012, Middle East Respiratory Syndrome (MERS-CoV) infected nearly 2,500 people worldwide, killing 851 people, a mortality of around 30-35 percent.    
The symptoms caused by SARS-CoV-2 are similar to those caused by SARS-CoV. When the virus attacks humans, patients suffer fever, cough, fatigue and respiratory distress. Research published in the New England Journal of Medicine (NEJM) based on 425 patients infected with the virus showed that the novel coronavirus originated in central Wuhan at the Huanan Seafood Market before January 1, and since then person-to-person transmission spread rapidly.    
On January 31, the WHO declared the coronavirus outbreak a Public Health Emergency of International Concern (PHEIC), the top alert. Many provinces across the country instantly activated their first-level public health emergency response.  
"The WHO said during a morning emergency meeting [on January 31] that it wasn't necessary to declare the situation a PHEIC, adding that it will wait and observe for 10 days," Lu Shan, a professor at the University of Massachusetts Medical School, told NewsChina. "That afternoon, however, the agency changed its decision. One of the main reasons was the emergence of the first person-to-person transmission in the United States, proving its high infectiousness."    
Prior to the PHEIC announcement, at least 18 countries reported 98 cases of the infection including the US, Japan, Singapore, Vietnam and South Korea. As of press time, more than 77,000 people across China were infected, with 2,445 deaths, mostly in Wuhan.
Laurie Garrett, former senior fellow for global health at the US Council on Foreign Relations, is a policy analyst and author of The Coming Plague: Newly Emerging Diseases in a World out of Balance (1994). In a commentary on news channel CNN on January 24, she said that on the same date 17 years ago, she had been covering the SARS virus for several months as it spread across Asia, eventually reaching 37 countries.    
"So, as I read the first reports of a cluster of animal-market related illnesses, with the first patient exhibiting symptoms of pneumonia as early as December 12, 2019, I had a chilling sense of déjà vu," she said.    
By the end of December 2019, several medical institutions in Wuhan had already reported a number of pneumonia patients of an unknown cause. On December 27, three patients with severe symptoms were transferred to the city's Jinyintan Hospital. Three days later, researchers found they carried the same virus in. The whole process was published in the NEJM by Gao Fu, director of the Chinese Center for Disease Control and Prevention (CDC) and other researchers on January 25, 2020.    
There were six known types of coronavirus with which humans could be infected, including four common types which display low pathogenicity – that is, the ability to cause disease. But the other two types, SARS and MERS, can cause severe respiratory system diseases which are highly contagious and fatal.    
When the first genetic sequence of the seventh coronavirus, SARS-CoV-2 was published, scientists discovered that it is akin to that found in bats. On January 23, Professor Shi Zhengli and her team at the Wuhan Institute of Virology found that SARS-CoV-2 is 96 percent similar to bat virus and 79.5 percent consistent with SARS. The team estimated that SARS-CoV-2 had originated in bats.    
On January 29, Tan Wenjie, a researcher with the China CDC wrote in The Lancet that in comparison with SARS-CoV, SARS-CoV-2 has more similarity to that found in two species of bats local to Zhoushan, Zhejiang Province, with more than 88 percent sequence identity. Tan said that bats are the likely hosts of the virus and some animals sold at the Huanan Seafood Market are likely to be the intermediate host between the virus and humans. There was speculation that snakes could be an intermediate host. Now Chinese researchers have turned their attention to the pangolin, the most trafficked animal in the world and used extensively in traditional Chinese medicine.    
David Robertson, a research professor and head of the University of Glasgow Center for Virus Research, told NewsChina that there is speculation on the source, but it is likely that bats played a recent role, adding that it is clear that within the coronavirus family with known genomes, all precursors to this current virus came from bats.   
"This was important early in the outbreak to identify the infectious agent that caused the outbreak and to understand if multiple strains are circulating simultaneously which would potentially complicate detection," he said.    
Peter Bogner, president of the Global Initiative on Sharing All Influenza Data, argued that luckily, the viruses are all similar which makes it easier to target and therefore suggests the introduction into humans was recent.    
"Getting into more detail would require samples from the animals at the market at the time but everything has been disposed [of] and disinfected which is the proper response to an unknown threat," he told NewsChina.    
Yet, in an article in The Lancet published on January 24, Huang Chaolin, deputy director at Jinyintan Hospital and several co-authors, argued that no epidemiological link was found between the first patient and later cases and 13 of the first 41 hospitalized patients had no link to the seafood market.    
Cao Bin, an expert in respiratory infections at the China-Japan Friendship Hospital who is the corresponding author of the article wrote in an email to Science Insider that "it seems clear that the seafood market is not the only origin of the virus and to be honest, we still do not know where the virus came from now."
When the Chinese government announced for the first time that 62 people were infected with SARS-CoV-2 on January 18, medical researchers at Imperial College London and Hong Kong University estimated that probably 4,000 people had already been infected.    
Garrett, in her CNN commentary, wrote that more people would likely be infected by the new coronavirus than by SARS-CoV in 2002. Four days later, official Chinese statistics showed that nearly 6,000 people nationwide were infected, more than the 5,327 cases of SARS in the Chinese mainland. It was just a month after the Wuhan Health Commission made public the epidemic.    
According to a paper titled "Early Transmission Dynamics in Wuhan, China, of Novel Coronavirus-Infected Pneumonia" published in the NEJM by researchers from the CDC, Hubei Center for Diseases Control and Prevention and Hong Kong University on January 29, the R0 (pronounced R-zero, which measures virus spread) is about 2.2, meaning that each infected patient on average could pass on the disease to 2.2 persons. The higher the R0, the more infectious the disease. If the R0 is higher than 1, it will keep spreading, if lower than 1, the disease will probably peter out.    
Benjamin Cowling, an infectious disease professor at the Hong Kong University Faculty of Medicine, told NewsChina that there are two aspects to the severity of a virus. The first is the clinical manifestation including the risks of hospitalization, the proportion of critical patients and the mortality. From this perspective, he said, there was not enough adequate information and he estimated that the risk of hospitalized patients dying is 14 percent. The second aspect is population impact, the effect on economies and society. Cowling said he suspected that societies heavily impacted by the virus could take years to recover from the physical and mental health aspects of the measures that have been taken to control the virus.    
According to China's National Health Commission, the mortality rate with a definite diagnosis of SARS-CoV-2 in China is on average 2.1 percent and the mortality rate in Wuhan is 4.9 percent.   
"We know there are many mild infections with SARS-CoV-2, which is quite different to SARS-CoV. We don't know the ratio of mild to severe cases because most mild cases are not being tested and laboratory confirmed," Cowling said.    
In the opinion of Zhang Wenhong, director of the infectious disease department of Huashan Hospital of Fudan University, 15 percent of patients diagnosed in Shanghai were critical, and the death rate is noticeably lower than for SARS. The critical patients are mainly elderly people who have underlying conditions such as diabetes, hypertension and other chronic conditions.    
However, a large number of less severely affected patients and even those without any symptoms can be possible sources of infection. According to an article in the NEJM by Vincent J. Munster, a virus expert at the US National Institutes for Health and co-researchers titled "A Novel Coronavirus Emerging in China – Key Questions for Impact Assessment," if infection does not cause a serious disease, infected people probably will not end up in healthcare centers. Instead, they will go to work and travel, thereby potentially spreading the virus to their contacts, possibly even internationally.    
Milder cases and the transmissibility of the virus is the biggest difference between SARS-CoV-2 and SARS-CoV which currently poses the main difficulty of control. A microbiologist told our reporter on condition of anonymity that when patients were diagnosed with SARS, it was highly infectious only after patients displayed symptoms such as fever and pneumonia. SARS-CoV-2 has an incubation periodof up to 14 days and there are some asymptomatic carriers.    
According to a study led by Zhong Nanshan, an expert epidemiologist and leader of the high-level expert group under China's NHC to combat SARS-CoV-2, the incubation period could be up to 24 days and the existence of super spreaders cannot be ruled out. The study, published on online platform for medical researchers medRxiv on February 8, is based on a retrospective study of the clinical characteristics of 1,099 patients (as of January 29) confirmed with the virus.
"These patients are invisible in crowds, difficult to be detected and they are unwilling to see a doctor," Tong Zhaohui, deputy director of Beijing's Chaoyang Hospital, told NewsChina. "It's hard to solve. Public awareness is necessary to make them realize the danger and to protect themselves and their family. It's also a social responsibility."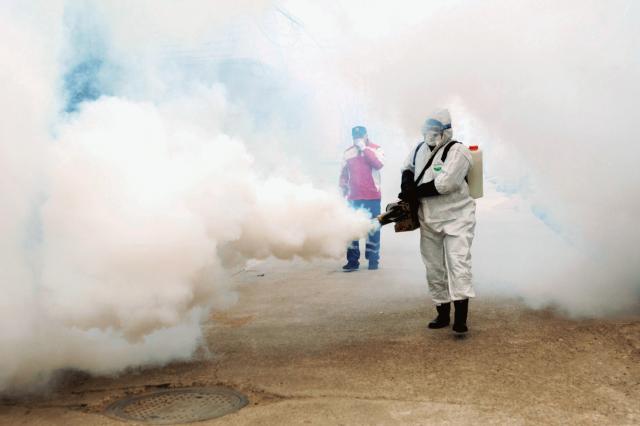 Volunteers from Shanhai Qing, a public welfare rescue team, disinfect Dongxinzhuang Village in Qingdao, Shandong Province, January 29, 2020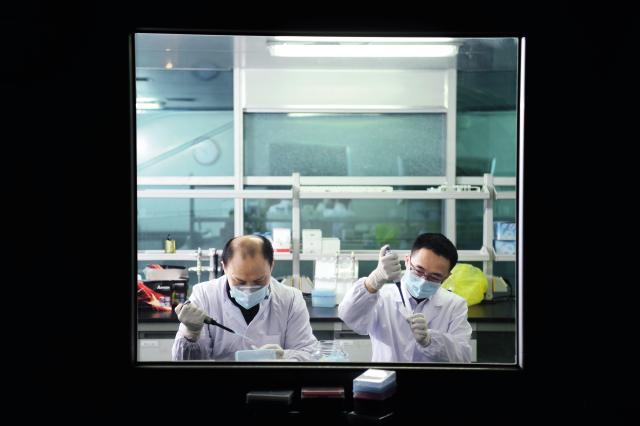 Scientists use nucleic acid testing on samples from patients suspected to be suffering from Covid-19, caused by SARS-CoV-2. The results should be delivered within 30 minutes
A 35-year-old man who returned to the US on January 15 after a trip to Wuhan fell ill with the coronavirus, the first person to be diagnosed in the country. When his condition worsened after seven days of treatment, doctors prescribed antiviral drug Remdesivir, developed by US firm Gilead Sciences, even though it was not ratified by the nation's drug agency. Two days later, the patient's condition improved. Details of the treatment were published in the NEJM on January 31.      
Remdesivir was developed by Gilead mainly to treat Ebola and the Marburg virus, although it later showed antiviral activity against SARS and MERS in cell and animal experiments. It was approved by the Chinese Ministry of Science and Technology, the NHC and the National Medical Products Administration for a clinical trial on February 6, according to a report by the official Xinhua News Agency.     
A total of 761 coronavirus patients in several hospitals in Wuhan were enrolled for the first phase of trials, led by the China-Japan Friendship Hospital and the Institute of Materia Medica under the Chinese Academy of Medical Sciences. Remdesivir has been administered to 453 critical patients and 308 less severe patients, according to Cao Bin, head of the drug's clinical trial program at a training and kick-off meeting in Wuhan Jinyintan Hospital on February 5.      
On January 26, Xu Wenbo, director of the Institute of Viral Diseases of the China CDC announced it had started research into vaccines. The CDC has already isolated the coronavirus and is identifying its seed strain. Meanwhile, overseas institutions are also racing against time to develop a vaccine. But researchers cautioned that developing a vaccine, even if trials are fast-tracked, will not be a quick process.      
Zhang Linqi, a professor at the Tsinghua University School of Medicine, led a research team to develop vaccines targeting the MERS-CoV virus. His team has stepped up vaccine development to address the novel coronavirus. He told our reporter that it is easier to develop coronavirus vaccines than HIV vaccines and it is urgent to extract the antibodies of the virus.      
During the 2002-2003 SARS outbreak, it took scientists more than 20 months from obtaining the gene sequence to vaccine trials on humans. But there are no vaccines for SARS available now.      
Anthony Fauci said since the outbreak of SARS, the R&D time of vaccines targeting a coronavirus has largely been reduced. He expects to start phase 1 trials for safety in about 20 people within three months. However, he added, that does not mean a vaccine will be available for use and distribution within three months.      
"It will take three additional months to get results and then we proceed to phase 2 in a larger number of people. Even if we get emergency use authorization, it is highly unlikely that a vaccine will be available for at least one year," he told NewsChina.      
Peter Hotez, a scientist at Baylor College of Medicine in Houston and his team developed a vaccine to prevent SARS, which never made it to human trials. The receptor-binding domains of both SARS-CoV and SARS-CoV-2 bind to the same host ACE2 receptor (an enzyme which is a host cell receptor responsible for mediating infection) found in human lungs, and the two viruses are 80 percent similar in their genetic code. His team is testing if the findings will contribute to the development of vaccines for the novel coronavirus and it is working with researchers from Fudan University in Shanghai.      
"The challenge is that even if we show our SARS vaccine cross protects against the novel coronavirus in the laboratory we would still need funding to conduct safety testing and clinical trials in humans," he told NewsChina. "Therefore we're still several months away from having a vaccine."