Ten years in the making, author Li Er's Maodun Prize-winning Brother Yingwu explores the lives of intellectuals in a changing China and life-changing events of his own
L
i Er turned off his mobile.  
The author's latest novel Brother Yingwu (Yingwu Xiong ) was among the nominees for the 10th Maodun Prize, China's most prestigious award for literature held every four years, which was announcing the winners. 
Early next morning on August 17, he received a phone call from writer and friend Bi Feiyu, who told him to read the good news online.  
Perhaps emotions were running too high. Li had not produced a novel since 2007's Cherry on a Pomegranate Tree (Shiliushu Shang Jie Yingtao).  
While relatively unknown at home, an endorsement from German chancellor Angela Merkel following the novel's translation into German brought Li into the international spotlight. 
His long awaited follow-up Brother Yingwu explores the lives and struggles of Chinese intellectuals through allusions to the Confucian classics. It has since sparked controversy for its scathing taken on academia, business and officialdom.  
But for Li there was more than anticipation surrounding the prize. After finishing Brother Yingwu, Li returned to his hometown in Henan Province for the first time in six years.  
He burned a copy of the novel at his mother's grave as an offering to her and a farewell to the past decade.  
Personal Journey
The novel centers on Cheng Jishi, a Chinese-American professor of Confucianism at Harvard who returns to China to work at a new research institute at the fictional Jizhou University.  His return is part of a provincial campaign to revive academic studies of Confucianism. But through the eyes of Yingwu, a local Confucian scholar, readers see how a planned Confucius Research Institute gradually changes from a cultural project to an economic issue for both domestic and foreign entrepreneurs and a vanity project for politicians.  
However, Li also expresses empathy for each character's dilemma.  
"I won't criticize just to be critical, but I would rather try to experience the difficult situation of the character first," Li told NewsChina in his office at the National Museum of Modern Chinese Literature in Beijing. "Once you really immerse yourself in the plot, readers can follow you and have the same feeling as the protagonist." 
This immersion had also taken its toll. Li recalled that on the afternoon of November 27, 2018, he received a visit from Fan Xiaozhe, editor of Renmin Wenxue Publishing House, who published Brother Yingwu. Li showed Fan the epilogue.  
"The novel followed me everywhere, and sometimes, I thought it would never be finished," Li writes: "Today, I finally present the novel to my readers, and I feel released and grateful. Hereby, to my mother, after 13 years, I have tried my best." 
As Fan read it out, Li said he could not help but burst into tears.  
On April 30, 2006, Li received a phone call from his family in Henan Province. His mother was ill. On the same day, he was back in Henan's provincial capital Zhengzhou, where doctors told him his mother was diagnosed with a rare form of peritoneal cancer.  
Li stopped working on the novel until his mother died in 2008. He tried to take it up three months later, but so much time had gone by that he could not get back on track. 
It was not until 2010 during a train journey from his hometown back to Beijing that he turned on his laptop to start again – from scratch. This time, the writing flowed out of him. Li told NewsChina it was like a blessing from his late mother.  
Ever since, he takes his old laptop, cigarettes and tea wherever he goes, ready to write.  
Young Passions
Li's interests in literature began in 1983 while at university. His father loved literature and had a passion for writing in his youth. The Cultural Revolution (1966-1976), however, put a stop to that pursuit.  
Fearing his son's writing would land him in trouble, Li's father intentionally steered young Li's creative energies toward painting. "Even until the 1980s, my family still could not forget the time when loving in literature was dangerous. However, unexpectedly, painting did cultivate my ability to visualize, and I fell in love with literature naturally," Li told NewsChina.  
Li studied at East China Normal University in Shanghai. The school had a strong literary community having impassioned late night discussions in reading rooms were common sights. Li remembered how the fragrance of the lush oleander trees outside would linger in the reading rooms. 
Chinese novelist Ge Fei was teaching at the university. Other writers, including Ma Yuan, Yu Hua, editor Cheng Yongxin from Harvest and Zong Renfa from Guandong Literature magazine, often came to the campus to meet students and teachers.  
Li was just another fan of literature. He would often read excerpts of his work during these gatherings. 
Li's friends remember how he was always immersed in a world of literature. "He would sit quietly looking at the trees out of the window for a long time, with a perplexed appearance. It was like Albert Camus was inside him," Li's friend Xie Hong told NewsChina. 
Li joined the Sanhua Society, a literature club at the university. He eventually became deputy chief editor for campus magazine Sanhua and published some avant-garde work. "I still remember Li Er published a poetry series called 'Cafe Shops Along the Boulevard', but I was too dumb at the time to understand what it meant," Xie said.  
After graduation, Li published his first novel Gospel in Guandong Literature. The book is steeped in magic realism with imagery such as a shoe inside a human-sized fish belly and the birth of "I." But by the late 1980s, avant-garde literature had fallen out of favor. Critics called it over-indulgent, particularly in form and structure.  
Li switched styles, choosing to explore intellectual perspectives and the lives of ordinary people. During the six years after he published Gospel, Li graduated and returned to Henan, where he accepted a job teaching at Zhengzhou Normal University. He wrote in his spare time and submitted novels to publications. Most of the time he never got a response.  
"I used to be a devout fan of Jorge Luis Borges, and wrote a few novels mimicking his style. Except one short novel, none of those pieces were published. Though my writings later showed nothing similar to the works of Borges, I have to admit that I learned basic techniques from him," Li said.  
Changing Times  
In 1993, his novella Supervisor is Dead (Daoshi Si Le) was published in Harvest, which refocused Li on writing about the everyday lives of intellectuals. The novel is about a university professor sent to a nursing home after devastating personal and professional setbacks. Inside, he was treated as a mental patient and forced onto medication. The professor committed suicide by jumping from the building.  
Literary critic Chen Mingxiao said the novel has completely changed the narrative about Chinese intellectuals and is one of the first most important works of the genre. 
With the royalties earned from Supervisor is Dead, Li did something he had wanted for a long time – buying his family their first refrigerator.  
That same year, writers Jia Pingwa released Ruined City (Fei Du) and Chen Zhongshi published White Deer Plain (Bailuyuan), both of which drew attention in literary circles.  
Ruined City aroused widespread discussions nationwide for its sexually explicit content. Li said at that time, many accused it of "collapsing the human spirit" and "marginalizing literature."  
In his letter to editor Cheng Yongxin, Li wrote: "Right now, the world is changing fast and there are many uncertainties. It's a luxury and fortune for you to have so many writers around you who still really love literature. For me, writing is my destiny and I love writing and am willing to suffer any pain for it." 
"History will remember 1990 as a turning point. Throughout the 1980s, people believed that tomorrow would be better, but since 1990, intellectuals felt a huge contrast and had a sense of failure. Reform and opening-up made everything change, which completely changed the worlds of literature and spirituality. Following the old language, syntax and paradigms won't work," Li wrote: "We urgently need a new way of writing with breakthroughs in language and perspectives." As literature retreated from mainstream culture, many writers switched careers to more market-driven businesses or the film industry. But Li continued to write, producing dozens of short stories and novellas about the dilemmas of intellectuals. He later resigned from his teaching position to work as editor for Mang Yuan magazine.  
In 2002, Li released Hua Qiang (Coloratura). The novel tells the life and death of revolutionary poet Ge Ren through the perspectives of fictional characters representing three distinct eras: doctor Bai Shengtao from the Communist Revolution, prisoner Zhao Yaoqing of the Cultural Revolution and legal expert Fan Jihuai from the late 20th century. The book explores the subjective nature of history and the possibility that everyone is the author of their own destiny. 
Coloratura was short-listed for the 6th Maodun Prize in 2005. That same year, Li finished his long-form novel Cherry on a Pomegranate Tree, which tells the story of a local village official election campaign and enforcement of the one child policy. His novel attracted the attention of a German publisher. However, because the complex historical and cultural issues in Coloratura proved difficult to translate, the publisher instead released a translation of Cherry On a Pomegranate Tree.  
The book caught the attention of German Chancellor Angela Merkel. She was impressed, and even gave the German version of the novel as a gift to Chinese Premier Wen Jiabao during her visit to China. Merkel told the press the novel revealed the changes of rural China and the intertwined relationship between China's countryside and globalization following China's reform and opening-up.  
"To a certain degree, Merkel helped to promote my work to the general public. Most German people didn't know anything about modern rural China and everything they did know was based on previous descriptions from missionaries. After reading my novel, many were surprised at the role rural China played in the process of globalization and wanted to know more about what was behind the drastic change," Li said. 
"Much of rural literature in China focuses on eternal human nature, both good and bad. A friend of mine once told me that focusing on the good would win me a domestic literature award and writing about the bad would earn me a literature award abroad. But I do not want to write about either. I prefer writing about cultural complexity and like to explore the human condition through complicated discourse."
Li plans to write three novels in his lifetime. His debut novel Coloratura addressed history and Brother Yingwu focuses on the present. Now all that is left is the future. "If I'm lucky enough, I might be able to present my third novel about the future in the next 10 years," he said.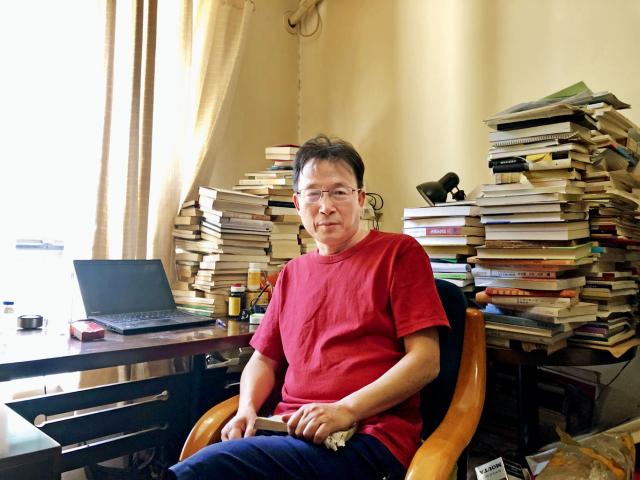 Li Er at his desk