Dahufa, the first Chinese film to give itself a PG-13 classification, launches a revolution in creative Chinese cinema with its confronting violence and stirring themes
Splashing the screen with blood, decapitations, amputations and even the occasional torn-out heart, the new animated film Dahufa has stunned audiences with its Tarantino-esque depiction of violence. It is also the first Chinese film to rate itself "PG-13," a rating cautioning parents that some of its content may be inappropriate for children under 13. That might seem like an understatement, but it is an unusual move given China does not have a film classification system.  

Produced by Beijing-based Nice Boat Animation and directed by Busifan, Dahufa is China's first cartoon targeted at adults to get a cinema release. Peppered with political metaphors and allegories, the film tells the story of an assassin going on a quest to find and save his nation's prince from a dystopian society, Peanut Town, which is inhabited by bizarre, peanut-headed humans. Many have seen the work as a political fable and compared it to George Orwell's Animal Farm and 1984.  

Released on July 13, Dahufa grossed 85 million yuan (US$12.7 million) in two weeks, whereas Hollywood's Despicable Me 3 managed to earn 10 times as much in the same period. But despite its modest box office takings, the release of Dahufa on the domestic market is widely considered a motivator to spurn the creativity of independent filmmaking in China.
 
"From Dahufa, you can see the most bloodthirsty Quentin [Tarantino] in Inglorious Basterds and the fiercest Cohen brothers in No Country for Old Men," a scriptwriter in the industry commented after attending its premier on July 10.  

Tarantino-esque Animation 

In no way is this dark, eccentric, blood-spilling and politically-loaded animation made for children. Before its premiere, the producers of the film repeatedly reminded viewers of its self-administered PG-13 rating by highlighting it on posters, in trailers and in practically every article.  
In a quest for his country's lost prince, the eponymous Dahufa character arrives in a strange frontier land Peanut Town, whose residents look like peanuts – with fake eyes and mouths stuck on their round faces. They have no idea who they are or where they are from, and are told to keep silent and to hate outsiders. They are also forbidden from communicating with or dating each other, crimes which result in execution.  

The entire town is ruled by a tyrant, the Immortal Ji'an, the one who creates peanut people and governs them with violence and lies. If a peanut resident is discovered to have a strange mushroom growing from his body, he will be executed by the town's guards as the fungus is a vital ingredient in Ji'an's manufacture of biochemical weapons, from which he profits greatly. 

Where there is repression, there is resistance. Along with the protagonist, Dahufa, some peanut residents, inspired by his arrival, turn their repressed desires for freedom into enormous power, rebelling against and eventually overthrowing the tyrant.  

The film's liberal approach to world-building and storytelling, complicated characterization and its mixture of allegory and realism has stunned viewers in China. It has also earned praise for blending traditional Chinese ink-painting techniques into its style.  

The reception has been mostly positive. Dahufa currently enjoys an 8/10 rating on Douban, a ratings site, from almost 100,000 reviews, higher than two recent big releases: fantasy Wu Kong (5.4/10) and animation Despicable Me 3 (7/10).  

"It's the most atypical film of 2017 so far. It's pessimistic to the bones. It's anti-idealistic, anti-society, anti-human, anti-beauty, anti-children, anti-art and almost anti-everything. I choose to ignore all its defects because I believe such creation should be encouraged," Douban user "French Film" commented.  

Many expressed surprise that such a dark and violent work gained approval by the government's media regulators and got a cinematic release.  
Since China does not have a film classification system, filmmakers have no choice but to create works that are suitable even for young children. Content that does not fit these criteria is usually cut by regulators. Moviemakers have to edit their works in a way that guarantees they can be screened.  

The film has come at a time when the government's control over the entertainment industry is growing ever tighter. In February, a new law was issued stating that foreign movies containing content deemed "inappropriate" for minors must provide a warning in their marketing materials. The day before the release of Dahufa, almost all foreign films and TV shows were taken down from popular Chinese video streaming sites, Bilibili and AcFun.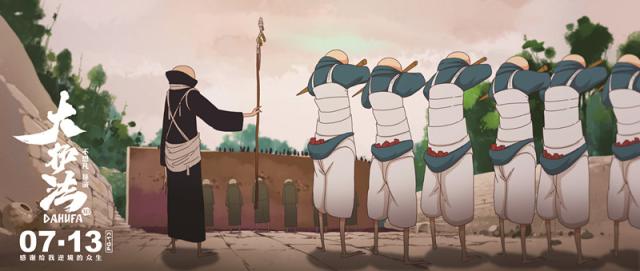 In the film, the firing squad execute row after row of the peanut residents
Destroyer
Busifan told NewsChina that his primary purpose in creating Dahufa is to tell a story about constraint and resistance. "Each character in the story is chained, to some degree. Each has his own fear, and that fear has gradually tied up his spirit and caged his soul."  

For the artist, the image of the repressed peanut people mirrored himself and his struggle with his own career predicament over the years.  

Busifan was born and raised in the small city of Lin'an, Zhejiang province. Before he became a professional animator in 2008, he had a full-time job in the local telecom administration bureau and used his spare time for creative pursuits. As an amateur, Busifan had already made a name for himself with a seven-episode animation made in Flash. The Black Bird (2005), though coarsely made, won Busifan fans with its eccentric style and themes.  

In 2008, the then-32-year-old quit his enviable job and moved to Hangzhou to form his own studio and become a full-time animator. In the following four years, the studio created a series of works, including Mee's Forest (2009) and Mr Miao: Angry Ducks (now slated for a 2018 release).  

Changing from an amateur animation lover to a full-time animation worker, the talented maverick started to have fears. He repeatedly questioned his own work: "Does it look beautiful? Is it suitable for kids? Does it meet the market's demands?" The director sadly discovered that he was more and more chained down by these concerns and caught up in self-doubt.  

Shang You, producer of Dahufa, has long been drawn to Busifan's expressive and stylized works, and firmly believes in his talents. But Shang hesitated when he saw the sample of Mr. Miao: Angry Ducks.  

"I used to imagine it to be a very powerful work. I thought its image might not necessarily look exquisite, but its content must be highly expressive. However, it turned out to be a work with fantastic images and plain story," Shang told NewsChina. He believed the gifted artist "must have been stuck by something."  

"It's not wrong to consider these things [market, visuals, public acceptance]. But if you allow such things to evolve into a certain ideology, you will be gradually enslaved and occupied by it. You'll trap yourself in a very difficult situation," Busifan told NewsChina.  

And so when creating Dahufa, the artist made up his mind to make "a very violent work" so as to break all the shackles that enslave individuals' minds and bodies. "Each character in the film has his own fear. Each character of the film is chained by something, including the antagonist Ji'an. Through violence, all fetters can be broken. It's like a self-revolution," Busifan said.  

In displaying violence, Busifan drew inspiration from American filmmakers, especially Tarantino, who is renowned for his esthetic of violence. Tarantino's influence is more in plot design than in violent scenes. The miserable death of Ginger is one instance.  

In the film, Ginger, a kind, righteous, awakened young peanut resident, is eventually decapitated by the town's top guard, Pao Mao. For Busifan, the impact of Ginger's death on audiences needed to be extremely hard-hitting. "I think Quentin would do the same," Busifan said.  

The director insisted on other similarly unpleasant, painful scenes so as to challenge the audience. "Such scenes can break people's long-held stereotypes towards Chinese animation and Chinese films. It may pain audiences and also make them think," he told the Southern Weekly.  

'To Read Me is to Kill Me'
In recent years, a rising wave of better quality Chinese animated works has raised both the industry's and audiences' confidence in domestic animation. In 2015, the CGI cartoon Monkey King: Hero is Back became the highest-grossing animated film in Chinese history, with earnings of 956 million yuan (US$150 million). That was followed by last year's Big Fish & Begonia, an exquisitely-made Chinese animated feature with extraordinary visuals.  

Many critics compare Dahufa with Monkey King and Big Fish. Coincidentally, the title of these three films starts with the same Chinese word "Da", which literally means "big" or "grand." "If we say Monkey King is grand in scope and Big Fish is grand in esthetics, Dahufa, then, is grand in boldness," Shang You concluded of the three grand-titled films.  

Nevertheless, Busifan said Dahufa, due to budget issues, cannot be compared with the other two productions in many ways. "It looks like an ill-fed slum kid," he joked.  

The process of putting Dahufa on the big screen was far from easy. It took Busifan three years to complete the work. Due to a low budget, the production team was made up of just four members.  

Like Big Fish & Begonia, Dahufa has also made its way to cinemas in part thanks to crowdfunding, first catching people's attention as a Kickstarter project called The Black Peanut. The project was finally financed with US$20,000 – not a huge sum, but a big boost to Busifan's confidence.  

"[Kickstarter] were very enthusiastic about this project. They just couldn't figure out how on earth this novel and daring work could be made in China," Shang You told NewsChina.  

It was Color Room Pictures, a division under Enlight Media, Ltd, that finally solved the money problem. The company also invested in Monkey King: Hero is Back and Big Fish & Begonia. "It would be a huge loss to the Chinese animation industry if we missed such a great story," the CEO of Color Room Pictures, Yi Qiao, told media.  

It took one year for both Color Room Pictures and Busifan's team to bring the work up to scratch. The original 2D sample was transformed into 3D, and the original narrative pace and script was polished by renowned film editor, Lin An'er.  

Although more than 60 scenes were cut, the film finally passed censorship. From the perspective of Busifan, as long as the core of his story remained, all the cuts and edits were acceptable. He knew he had to follow rules and the logic of the film industry if he were to stand any chance of seeing his "slum kid" step onto the big stage.  

"We've now witnessed the coming of a golden age of Chinese animation. It's pleasing to see that people like us can survive in the industry," he told NewsChina. "[After the release of the film], many things that followed were beyond our expectations. In the very beginning, we just hoped to be able to pursue the dream of making an original animation," Busifan said. 

He told NewsChina that after Dahufa hit cinema screens, he could finally "take a breath," a moment away from survival mode, and focus more on his own creation instead of making compromises for the market.  

With his work becoming ever more popular, one thing that the director finds interesting and slightly confusing is a large amount of over-interpretation online. In the beginning, Busifan would glance over the online reviews, but gradually he found his own voice had been silenced and submerged by the flood of comments.  

"To read me is to kill me," Busifan told our reporter. "I heard numerous commenters voicing their opinions of the work. But in fact they were just indulging themselves by expressing themselves and their own view of the world."  

Many viewers of Dahufa interpret the work as an Orwellian, anti-totalitarian text and compare it to Animal Farm and 1984. Busifan admitted that he has not read any of Orwell's fiction.
"Essentially, it's just a story about restriction and resistance," Busifan repeatedly stressed.  
Busifan just wants to tell a story and let audiences see a group of enslaved people. "I've challenged audiences with a cry, 'Can you face your inner fear?' 'Do you really know who you are?' The interesting thing is, when you read reviews, you can see all sorts of people and all kinds of lives," the director said.  

"The whole work is not an opinion, but a cry. It's good if viewers hear it. And it's also fine if they don't," Busifan said.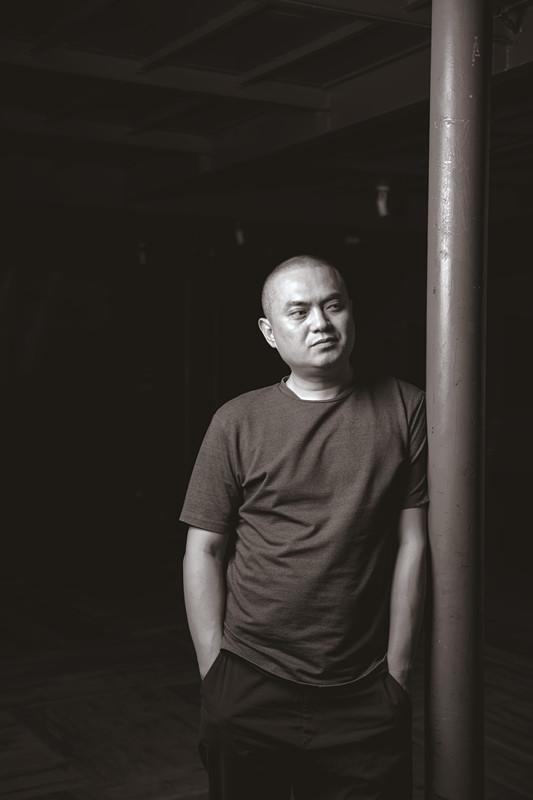 Busifan, director of Dahufa