The impact of the investigation into the big data industry has spread to internet finance, particularly online banking, forcing companies to become independent in risk management or quit the sector
O
n November 6, the National Internet Finance Association of China, a self-regulatory organization for the internet finance sector initiated by the People's Bank of China (PBoC), issued a notice about personal information protection, demanding its members collect and use personal information only with the authorization of consumers and stop cooperating with third parties that illegally collect and use personal information. Before that, in October, the PBoC proposed a regulation about personal financial information protection, which stipulates that financial institutions should not gain personal financial information from third parties that are engaged in illegal personal credit investigations. 
Following a series of investigations into data companies, many online lending platforms have stopped cooperating with big data risk management companies. An insider in the industry who requested anonymity told NewsChina that "It's not just internet banking companies, recruitment agencies that only have occasional cooperation with data companies are cutting ties with them. Now all related industries are becoming affected." 
Internet finance can hardly absolve itself from the trouble. Internet finance institutions, particularly small- and medium-sized ones without their own risk management models, have routinely sought assistance from third-party data companies to acquire consumer information and control risks. But in the process, some data companies illegally scrape personal information from websites or retain the data after use to sell it to malicious lending platforms.  
This malpractice eventually triggered a clampdown across the data industry starting in September. The risk management of financial institutions that relies on third-party data will inevitably be affected. The change is expected to speed up the process of elimination in the field and help the cleaning up of unregulated online lenders that has been going on since 2016. For financial institutions that can survive the change, more efforts and innovations are expected in building self-independent risk control models to adapt to the market, experts said.  
Butterfly Effect
The large-scale investigation into big data companies and subsequent tightened policies are putting internet financial institutions that rely on external data services in an awkward situation. Since early September when investigations into data companies started, many small and medium-sized banks and financial institutions have halted cooperation with companies suspected of unregulated data scraping, the focus of the investigation.  
Li Cheng, director of risk management for an internet consumer finance platform, said that the platform decided to entirely pause its cooperation with big data risk management companies to avoid being "involved," the 21st Century Business Herald reported.  
For these platforms, cutting ties with data companies comes at a cost. The effect is already evident in the lending market. In the past two months, a number of small and medium-sized banks and financial institutions have reportedly tightened the approval criteria for loans, and many online lenders are removing loan products as the platforms that depended on data companies suddenly lost their ability to assess risk, necessitating adjustments to their risk management models. 
"Recently we found that more illegal agents have been aiding consumers to polish their personal financial statements to allow them to get bigger loans. They think there are loopholes they can take advantage of without the support of risk management from big data companies," said Li Cheng, adding that the platform has to further raise the threshold for credit approval and give up part of the business to avoid being trapped by bad debts.  
Since 2016, the Chinese government has been trying to strengthen regulation of internet finance and online lending. This round of investigations into data companies is regarded by many as a continuation of the authorities' crackdown on deceptive and illegal cash loans on online lending platforms with problems like extremely high interest rates and abusive payments collection. 
Li Liang, who works for a third-party data company, believes that the brouhaha over the data industry probe is more severe than the fallout from the previous crackdown on payday loans, and it will have more effect.  
"Now it's hitting where it hurts," Li Liang said in a report from the Tencent-owned financial channel news portal qq.com. He added that for cash loans, particularly malicious loans which have high interest rates, big data is vital, without the support of which they would find it hard to issue loans.
Lending platforms that have been behaving well, for whom the withdrawal of external data is not catastrophic for the time being, still need to adjust their sources of data as well as risk control strategies to cope with the changes in the market. What's more, financial institutions that have their own risk management capability but still need to buy data from outside are also expected to be affected by the sweeping regulations.  
Meng Qingfeng, vice president of online lender CredEx Fintech based in Shenzhen, Guangdong Province, told NewsChina that when the available data sources dwindle, the risk-control models of data companies will change. "Every risk-control model is based on certain sources of data and needs time to be improved and verified. The change and decrease of data sources will significantly affect the accuracy of models," Meng said.  
"Now small- and medium-sized banks and financial institutions dare not buy data from third parties. They are starting to demand that their own risk management teams scrape data after getting authorization. The business scale and efficiency of approvals are greatly impacted," a senior executive of a risk management company that has years of cooperation with licensed financial institutions told NewsChina.  
The fallout is likely to have spread to third-party payment platforms. A senior executive of a payment platform engaged in cross-border payments told the 21st Century Business Herald that currently they dare not acquire consumers' private data from e-commerce platforms and are unable to check on consumers suspected of money laundering, now that authorities have tightened the reins on data collection. 
Interdependent Relations
The development of internet finance in China is closely related to the big data industry, given its demand for risk management.  
While the first P2P (peer to peer) lending platform appeared in 2006, China's internet finance industry only grew rapidly after 2013 when internet financial institutions targeting money management, payday loans and other products began to mushroom. They quickly became the main force driving China's consumer finance market with their big data-based risk control and customer acquisition system. In the competition with traditional banks, which were also forced to make internet-oriented transformations, the non-bank institutions' demand for online risk control and customer acquisition soared. 
A risk management model, which is based on consumer data gained from address lists, call records, mobile payment services, shopping platforms, social networks and all kinds of apps, can determine a person's income and payment ability in minutes and thus help the lenders filter eligible borrowers. It is regarded as vital to online lenders that provide quick and small loans to individuals and businesses, but which do not have a strict approval process like traditional banks.  
The use of big data in risk management runs through the whole process of lending, from qualification examination, anti-fraud analysis and credit investigation in the beginning to risk assessment and credit scoring in the middle of the approval process, and eventually to the supervision of capital flow after the loan is issued.  
"Small and medium banks and all types of financial institutions including online lenders all have demands for big data risk management," a senior executive at a city commercial bank who requested anonymity told NewsChina. He added that big banks usually have a solid data foundation and the capability to apply the data to risk management. But for smaller institutions, third-party data services help them significantly in enhancing risk management and improving efficiency.  
"Big financial institutions stress the use of data in the whole process, from customer acquisition to debt collection. They sometimes need to buy raw data to improve their models to assist risk control. But for small companies, it is less costly to buy solutions [or data models, assessment results] directly from a third party, whether blacklists or intelligent marketing strategies," said the senior executive.  
The risk management business exploded driven by the big demand. There were at least 573 companies engaged in the financial risk control business by November 2018, nearly 70 percent of which were established between 2013 and 2017, a time when internet finance experienced explosive growth, according to Iyiou.com, a research company.  
"It is worth noting that in recent years, big data companies really played an active role in improving the risk-control capability and efficiency of financial institutions," noted Zheng Yongjun, chief economist with Zhejiang Tailong Commercial Bank.  
Data services played a big role in promoting the credit economy, consumption and inclusive finance, a financial plan initiated by the Chinese government in December 2015 to make financial services available for microbusiness owners and people from all walks of life.  
By October 2018, Chinese tech giant Tencent's WeBank, for example, had offered loans to more than 20 million people since it started in 2014, issuing loans worth over 1 trillion yuan (US$142b), Tencent's vice president Zheng Haojian revealed at a smart transportation conference. Many of the users might not be eligible for traditional bank loans otherwise.  
Amid the rapid expansion of the industry, the number of data companies that illegally scrape, misuse or trade data also surged, thanks to the rich source of data and low cost in a loosely regulated environment. The improper operation of many data companies caused problems like personal information infringement and abusive debt collection in the financial area, particularly in online lending. Therefore, while playing a big role in boosting the development of internet finance, data companies sometimes are deemed as an accomplice for illegal activity.  
"Companies that have official authorization for data sources are officially designated and are the minority in the market," said an employee of a company that has been in long-term business with data companies. 
"The threshold to enter the big data risk control business is low, so good and bad companies are involved and it is hard to supervise. Companies that scrape data without authorization usually charge low prices for their services, but it will be very troublesome if the core data is problematic," said the employee, who refused to reveal his name. 
To play it safe, it is common for financial institutions to cooperate with more than 10 big data risk management companies and buy data from as many sources as possible for cross validation.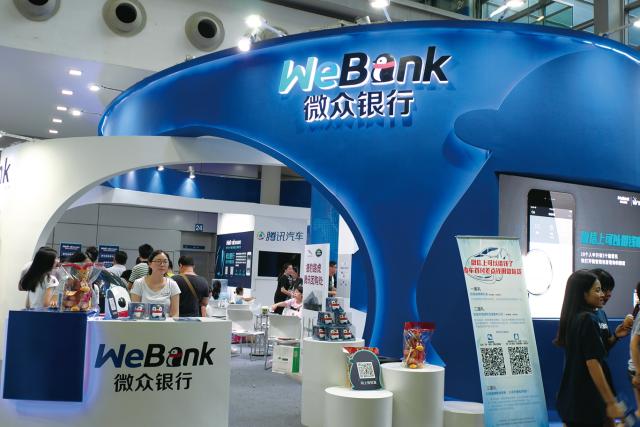 People visit the booth for Tencent's WeBank, China's first digital bank, at the 20th Shenzhen-Hong Kong-Macao International Auto Show in Shenzhen, Guangdong Province, June 10, 2016
Pressing for Change
The more dependent the financial institutions are on external sources of big data, the more they are lying low amid the current crackdown.  
On October 12, the Beijing Office of the China Banking and Insurance Regulatory Commission issued a notice which stated that they would regulate cooperation between the fintech arms of banks, prohibiting banks from cooperating with companies that steal, misuse, illegally buy or sell customers' information in the name of big data.  
The notice also requires banks to become independent in risk management, banning them from outsourcing core businesses, such as investigations into borrowers and risk control systems, to cooperative agencies.  
"It is undeniable that in recent years, the development of city and rural commercial banks has greatly benefited from big data companies. Many smaller financial institutions relied on third-party data in building risk-control models. Once that external dependence is cut off, their risk management will inevitably be affected," the manager said.  
The platforms that previously outsourced risk management services to third-party data companies have seen business decline as they are forced to raise the approval threshold to avoid bad debts. Many internet finance consumer platforms have begun to build their own channels to obtain borrower data and improve their own big data risk management systems, according the 21st Century Business Herald. But it is not easy. A person in charge of building data channels at a P2P lending platform told the 21st Century Business Herald that there are challenges, because the platform he works for lacks personnel in big data analysis to turn the borrower data into mature and effective risk management models.  
"We also considered building our own system to obtain borrowers' data and develop a technology system, but we found that it's really hard to find people who are proficient at using data to analyze borrower characteristics and build AI models. It is hard to get such specialists even if we offer high wages," said Li Cheng. 
Still, platforms that have developed their own systems for data acquisition and risk control are rapidly expanding, according to the 21st Century Business Herald.  
The situation, insiders observe, is supposed to hasten the process of elimination in the
internet finance area. Platforms that are unable to develop their own systems will leave the arena more quickly.  
The ripples from the data industry also alerted the internet finance sector to the importance of combining online and offline data in building risk management models. 
"It's worth noting that at present the mainstream risk management models still need to combine online and offline resources, instead of totally relying on online big data risk management models," said Zheng Yongjun. "At this stage, offline review is still necessary." 
Overall, the consensus is that tightening regulation on data will boost the benign development of internet finance. Xue Hongyan, assistant to the dean of the Suning Institute of Finance, said that data is crucial in boosting the development of fintech, the transformation of the financial industry and enabling financial services to better serve the real economy and reach more people. "Supervision means regulating the market instead of sacrificing fintech for data protection. The ultimate goal is to regulate development [of the data industry and internet finance]," he noted.