Through the nuanced stories of 40 terminal patients, In Life, a documentary that fearlessly deals with a hard topic – hospice care, explores how we can do better as life draws to a close
"
The wall of this hospice has heard more earnest prayers than a church," is the opening line of In Life, a three-episode documentary that records the final days of 40 terminally-ill patients at a hospice in Shanghai's Linfen Community Health Center.  
A hospice provides comprehensive care for people in the last phases of incurable disease so that they may live as fully and comfortably as possible, but the practice and philosophy of hospice care is still largely unknown in China. Beautifully decorated, the hospice documented in In Life provides palliative care to patients who are expected to live three months or less.  
The documentary is directed by Wu Haiying, an independent documentary director who previously worked at Shanghai TV. Released on September 13, the mini-series went viral on China's social media. Riveting, honest and humane, In Life delivers a clear message that each individual matters, and they matter to the last moment of life.  
Last Stop to Heaven
The nursing home in In Life is euphemistically called by locals "the last stop to heaven."Death has long been one of the most taboo subjects in Chinese culture. Some even believe just talking about death will bring on bad luck.  
It's no wonder that many locals regard the nursing home as an inauspicious place. Some residents near the center hang mirrors on their balconies, hoping to reflect the ill fortune back to the hospital.  
At the center, once a patient dies, they can be taken directly to the mortuary through a passage that is off limits to non-staff. "The living and the deceased don't share the same road," a nurse featured in the documentary says. 
Wu Haiying spent two years at the nursing home as a volunteer. He initially planned to interview at least a hundred patients, including soldiers, professors, businesspeople and children. He intended to explore how people of different professions, class and age differ in their perceptions of death. Later he realized how much he underestimated the difficulty of achieving his goal. After being refused interviews again and again by patients and their families, he was extremely grateful when one was willing to talk on camera.  
Due to the sensitive subject and tight budget, Wu worked on his own. "Patients and their families were already uneasy and felt offended when I approached them alone with the camera, let alone having a film crew around them. I wore a lab coat and spent time with them day in and day out. Slowly, they got used to the camera and were eventually willing to be filmed," the director told NewsChina.  
As a medical graduate, Wu doesn't see death as taboo. Nevertheless, every day after filming, he would take a detour to stroll through supermarkets or other places that were "full of life" – a piece of advice from a friend.  
Wu was inspired to create a documentary on hospice care by the final days he spent with his father, an iron-willed military veteran who died of bladder cancer. As mentally strong as Wu's father was, he still suffered through excruciating torture during his final rounds of treatment.  
"Having the spirit of a soldier, my father was not afraid of death itself but was still affected by the process of dying. People who are on the brink of death may be engulfed by a feeling of extreme loneliness and abandonment. The focus of hospice care lies in giving mental health care instead of simply medical treatment. Nurses, to some extent, play a more important role than doctors. Talking, hugging and physical touch – these all give patients a lot of comfort and solicitude. To face death, we still have a long way to go," Wu told our reporter.  
Wishes and Regrets
Behind each passing in this documentary is a story of longing and regret.
Cancer patient Wang Mingchang was a music lover. Every time volunteers or nurses were around, Wang would pull out his treasured hulusi, a flute made from a gourd, and play a song for them. The elderly man's wish was to spend his last days living a quality life.  
Wang loved chatting with Wu about his youth, lost loves and old memories, but not until his last few days did he agree to be filmed, as a sort of last will. On camera, Wang said, "I thought about writing a note but my wife won't let me. So I decided to tell you my last words. My funeral should be as simple as possible. There's no need for a memorial. Any gift of money is not necessary either. In fact I think a sea burial is quite good since cemetery plots nowadays are very pricey. But my wife strongly opposed the idea and told me there was no way that I would have a sea-burial…"  
A Shanghai woman also left a deep impression on the director. In the 1960s, she was a zhiqing, or sent-down youth during the "Up to the Mountains and Down to the Countryside Movement" launched by former Chinese leader Mao Zedong. She was sent to Northwest China's Xinjiang Uyghur Autonomous Region, and said the tough years she spent there had honed her strong will and courage. She did not fear death itself. But she revealed her vulnerability before camera, saying that the only concern she had was her family. The patient compared her family to a head of garlic, with her husband the stalk, her child the cloves and herself the peel. The peel is what holds a head of garlic together. Once it's gone, the garlic falls apart.  
Another patient that touched Wu was 68-year-old Lu Shenglan, a woman with breast cancer. Lu was talkative and loved chatting with volunteers about her days in Xinjiang – she was also there as a sent-down youth. "You can't imagine how sweet the fruit was I ate in Xinjiang when I was young, especially the melons! People would bite a mouthful of melon like they were playing a harmonica," Lu recalled with a smile.  
For her, those old happy memories were sweeter than melon. Wu and other volunteers often kept her company, sang songs for her, and chatted about the latest films and news.  
Optimistic and cheerful as she was, Lu has enriched the film with lots of vivid, warm and amusing moments – a strong contrast to the documentary's heavy subject matter and pensive tone.  
The youngest patient at the hospice was a four-year-old boy with a stomach tumor. The boy's family refused requests for him to be filmed, but appreciated Wu's company. After knowing that the child's greatest wish was to feed the doves on Shanghai's People's Square, the director volunteered to drive the family there.  
"The boy recited classical poetry along the way. Sometimes he would ask me to drive more carefully and sometimes he moaned because of the pain in his abdomen. When we arrived, the family got out and headed toward the square. As I watched them walking away, I felt this strong desire to grab my camera and record the moment. But I suppressed the urge and let the scene be forever etched in my memory. I felt very complicated feelings – like a mix of regret and comfort," Wu told our reporter. 
In addition to patients, In Life also focuses its lens on two groups of people – nurses and volunteers.  
"To have a good beginning but also a good end" is the motto at the hospice. "Everyone wants a good life but seldom do we think about having a good death. In fact, having a comfortable end is a basic right that every individual should enjoy. It's the ultimate respect for life and free will," said Zhang Min, a nurse at the center.  
Many volunteers at the hospice are students majoring in social work. Every week they sit by the patients' bedsides, trying as much as they can to realize their wishes. But as they chatted, these young volunteers realized the patients were also helping them. Their new friends would share their experiences and thoughts of life, and sincerely bless their futures.  
A Hug Beyond Words
The documentary has captured many warmhearted moments between the patients and volunteers.  
One involved a former professor at Shanghai Foreign Studies University who was diagnosed with lung cancer. He was lonelier than most others at the hospice. His children were abroad and he had no family to take care of him. Thin and frail, the old professor suffered from bedsores. He needed to be turned over every two or three hours. Fortunately, a group of volunteers took turns attending to him day and night to help ease his pain.  
A young volunteer wanted to give him a hug, but the old man refused and said "Do not touch me or you may get infected." The volunteer explained to him that lung cancer was not contagious and embraced him right away, which moved the man to tears. 
"We don't avoid physical touch. Sometimes a hug is worth a thousand words," the volunteer said.  
Wang Xuewen is a cancer patient with a brain tumor behind his left eye. He kept a one-eyed pet turtle, which he called "bro turtle." Wang is called a "miracle" – he has celebrated two birthdays at the hospice where most have less than three months to live. His optimism and passion for life had moved everyone at the home, so the nurses and volunteers decided to throw him a birthday party, exchanging hugs and presents. His personal nurse made him a photo album – in it were pictures from when he was still a bright young man with a pair of sharp eyes.  
"When death is approaching, the greatest wish patients have is for peace, company and spiritual solace. Family members, nurses and volunteers should stay with the patients, take care of them and give them as much comfort as possible so they can leave the world peacefully and without pain," Wu said.  
The documentary was released to widespread acclaim, earning a rating of 8.6/10 on China's leading content review website Douban.  
"Living in economically developed areas means you might have the right to die with dignity. But the majority of people in China as well as in the world do not have a choice. The film boldly focuses on the topic of death – this marks big progress for Chinese cinema. But currently hospice remains a touchy subject among the educated class in developed areas. China still has a long way to go," commented Douban user "Neighborhood Driver."  
"It's a Chinese version of Departures. It shows how nurses and volunteers take care of the dying patients and help them bid farewell to the world with peace and grace. Hospice care not only helps patients conquer their fear of death but also comforts their family members. The film delivers warm and rational message about life and death," said Douban user "Guoshuifeng."  
Departures is a 2008 Oscar-winning Japanese film directed by Yojiro Takita that tells a story of an unemployed cellist who takes a job at a mortuary preparing the dead for funerals. The film focuses on funeral rites, exploring how they comfort people and alleviate grief.  
Having witnessed the passing of dozens of elderly patients he befriended, for a time Wu was on the brink of a breakdown. He often reflected on the plot of the American film Taking Chance (2009).  
Based on a true story, the film is about a volunteer military escort who accompanies the body of 19-year-old soldier killed in Iraq to his small hometown in remote Wyoming. As Wu recorded the patients' last moments, he felt he was similarly escorting them away. The experiences left him questioning his own attitudes toward death.  
One year after filming, Wu forced himself to get away from this haunting work and tried hard to divert his attention from those lingering thoughts. "It wasn't until the film was released that I found certain solace. I hope it can bring solace to those patients in heaven as well," Wu told NewsChina.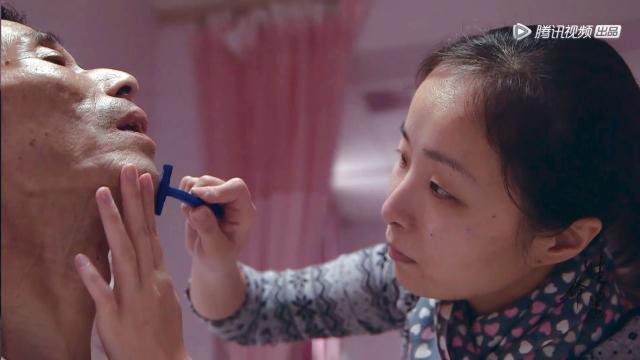 A nurse shaves a cancer patient at the hospice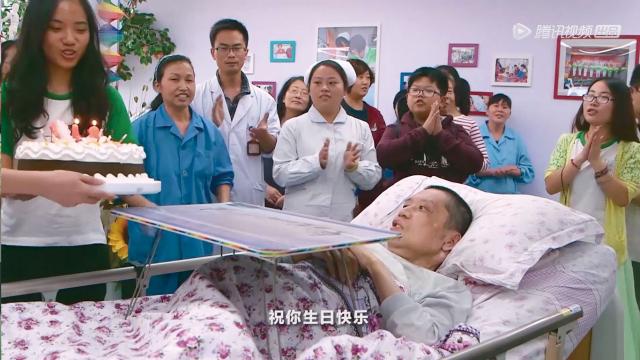 Nurses and volunteers hold a birthday party for cancer patient Wang Xuewen