As tensions keep rising on North Korea, given a hardened US position and deepening strategic distrust between Washington and Beijing, the future of the Korean Peninsula is uncertain
U
S Secretary of State Rex Tillerson's first trip to Asia in his new role, which included visits to South Korea, Japan, and China, was closely watched. Tensions are running high in the Korean Peninsula following Pyongyang's 2016 nuclear test and its renewed missile launches in recent weeks. 
Just as Tillerson arrived in Beijing on March 18, North Korea conducted a ground test of a new type of high-thrust rocket engine, which analysts believe will be used for Pyongyang's missile programs.  
In a joint press conference with Chinese Foreign Minister Wang Yi held that day, Tillerson warned that the issue has reached "a rather dangerous level." On the same day, US President Donald Trump tweeted that North Korea was "behaving very badly" and accused China of doing little to resolve the crisis over the North's weapons program, reiterating his long-term criticism of China for failing to rein in Pyongyang.  
But the meeting between Tillerson and Chinese President Xi Jinping appeared to be more amicable than expected. Without going into specific issues such as North Korea, Xi reiterated that "cooperation is the only correct choice" for the sides, and both expect a "new era for constructive development," while Tillerson said that through further dialogue, the two sides would "achieve a greater understanding" and "set the tone for our future relationship of cooperation."  
Analysts believe that Tillerson's meeting with Xi served more to pave the way and set the tone for the upcoming meeting between US President Donald Trump and Xi, to be held in Florida in April, than to address specific issues between the two countries.  
But behind the diplomatic rhetoric, the reality is that the difference between Washington and Beijing's policies on North Korea has been widened, rather than narrowed. Pyongyang's nuclear ambitions remain one of the thorniest issues between the two countries.  
Compared to his relatively restrained comments in Beijing, Tillerson was more direct and blunt on his visit to Japan and South Korea a couple of days earlier. During his trip to Japan he described the US's former North Korean policy as "20 years of a failed approach." In South Korea, Tillerson declared that the new Trump administration would no longer exercise "strategic patience" with North Korea and suggested that the US would consider launching military strikes against North Korea if Pyongyang threatens US or South Korean forces.  
In response, Chinese Foreign Minister Wang Yi said during his meeting with Tillerson, which came prior to the talks between Tillerson and Xi, that the US should remain "cool-headed." But the US policy change may already be underway. As Tillerson has said that the US will not resume talks with Pyongyang any time soon, the Trump administration's hardened position on North Korea is already in play.  
Earlier, on March 1, South Korea and the US launched one of their regular joint military drills, codenamed Foal Eagle, which will last until the end of April. Then on March 12, the US and South Korea began the annual Key Resolve military drill that will last for 11 days. The drills, being the largest in recent years, include the participation of the USS Carl Vinson, a Nimitz-class aircraft carrier, its attendant fleet, and various military aircraft including F-35B stealth fighter jets deployed in Japan.  
According to South Korean media, the drills not only include exercises practicing launching pre-emptive strikes against North Korea's nuclear and missile facilities, but also include training on a "beheading mission," targeting North Korean leader Kim Jong-Un himself.  
'No chaos on our doorstep'
In contrast to Washington's hardened position, Beijing appears to still be keeping stability the top priority in its policy regarding the issue. When answering a question regarding the tension in the Korean peninsula at the press conference that concluded China's annual NPC parliamentary sessions on March 15, Chinese Premier Li Keqiang, stressed that "It is just common sense that no one wants to see chaos on their doorstep." 
On March 8, two days after the latest missile launch by Pyongyang that saw four ballistic missiles land in the Sea of Japan, Chinese Foreign Minister Wang Yi raised a "freeze-for-freeze" proposal, suggesting that Pyongyang suspend its nuclear and missile activities in exchange for a halt in military drills conducted by the US and South Korea. 
Likening the tension to "two accelerating trains, coming toward each other with neither side willing to give way," Wang told reporters that the immediate priority should be to "flash the red light and apply the brakes on both trains."  
"Are the two sides really ready for a head-on collision?" Wang asked. China has long suggested that the frequent and large-scale military drills conducted by the US and South Korea have only served to exacerbate the North's sense of insecurity, a key factor underlining its nuclear ambition. But this is the first time that China has openly and officially proposed that the US and South Korea halt their military exercises.  
The proposal was promptly rejected by the US and South Korea the same day. Both Washington and Seoul maintained that their military drills cannot be equated to North Korea's provocations and its violation of UN resolutions, and are necessary in the face of an imminent military threat from the North. 
THAAD Clash
But as well as the disputes over how to react to Pyongyang's nuclear ambition and recent provocations, China has been locked with South Korea and the US in a dispute regarding the deployment of the Terminal High Altitude Area Defense (THAAD), an anti-missile system, in South Korea. This has further complicated the issue. 
Washington and Seoul reached an agreement to deploy the anti-missile system in July last year, a decision that has met with strong and persistent opposition from Beijing.
Although Washington and Seoul maintain that the anti-missile system is defensive in nature, and is aimed at providing Seoul the capability to intercept missiles launched by North Korea, China deems it a threat to its own national security.  
For China, the problem with the THAAD system is not its interceptors, but the AN/TPY-2 radar attached to the system. With an estimated maximum range of 2,000 kilometers, China is concerned that the radar can provide the US with unprecedented surveillance capability over military activities across a vast region of coastal and inland China.  
More significantly, China is worried that the radar can seriously cripple its nuclear second strike capability. China has long announced and affirmed a no-first-use doctrine regarding the use of nuclear weapons. Maintaining a relatively small nuclear arsenal, with an estimated 200-300 warheads, compared to some thousands held by the US and Russia, China has adopted a nuclear strategy of "minimum means of reprisal," relying on its capability to launch a second strike after surviving an initial nuclear attack as a nuclear deterrence.  
From Beijing's perspective, the deployment of THAAD on China's doorstep could seriously jeopardize the feasibility of its fundamental nuclear strategy. In November, 2016, Yao Yunzhu, a retired major general of China's People's Liberation Army (PLA) and former director of the Academy of Military Science's Center on China-US Defense Relations, told reporters that the deployment of THAAD in South Korea would enable the US to detect China's missiles ten minutes earlier than before.  
Li Bin, a nuclear scientist and international relations professor at Tsinghua University, warned in an article published on chinausfocus.com on March 6 that given the location of the THAAD system in South Korea, its radar would enable the US to tell real Chinese warheads apart from decoys by comparing the radar signatures from the back of the warheads.  
"THAAD, if deployed in the Republic of Korea, would undermine China's nuclear deterrent capability due to its special geographical position, its high power, and its capability of measuring to the centimeter," said Li. 
Moreover, as the US has already deployed two THAAD systems in Japan, China also has serious concerns that the US may be establishing an anti-missile network around China, which would seriously undermine the effectiveness of China's nuclear deterrence, overturning the nuclear balance between the two countries.  
Beijing also suspects that South Korea's agreement with Japan, reached last year, to share military intelligence serves as an arrangement to facilitate the integration of data obtained by the AN/TPY-2 radar set to be deployed in South Korea with those of the facilities already set up in Japan, which over time could be expanded to an extended anti-missile network around China.  
According to Li, the US and South Korea could replace THAAD's TPY-2 radar with a less capable Green Pine-level radar, so that China's worries about the AN/TPY-2 radar would be relieved. "This would not degrade South Korea's capabilities against the North Korean missile threat," Li said. But so far, there is no sign that there is any formal discussion on a compromise between Beijing, Washington, and Seoul.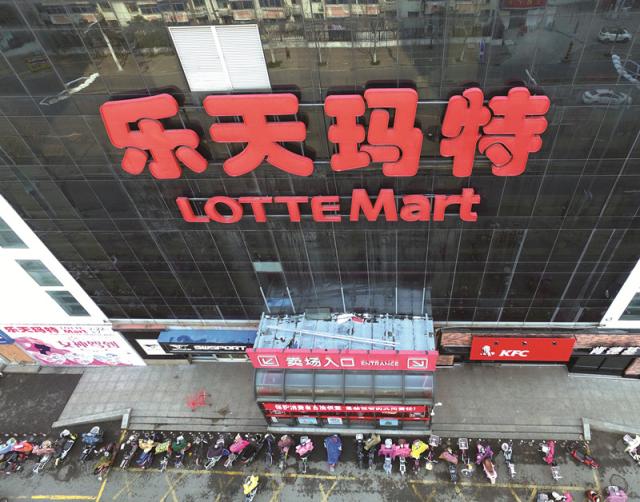 A Lotte Mart in Huai'an, Jiangsu Province. Online shoppers in China launched a boycott of the chain after South Korea's Lotte Group offered a land deal for THAAD missile deployment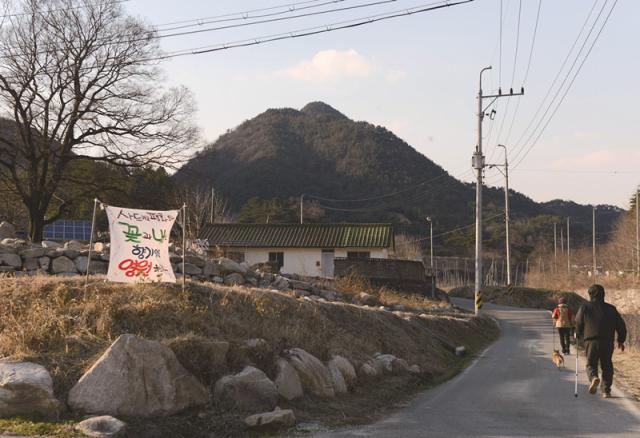 An anti-THAAD banner in Seongju County, where THAAD will be deployed
South Korean protestors rally before the Ministry of National Defense to protest against THAAD missile deployment
Escalation?
In the wake of Pyongyang's latest missile launch on March 6, the US has sped up the deployment of THAAD by airlifting two of its THAAD missile launchers to a US airbase in South Korea.  
China responded by escalating its warnings directed at South Korea. Chinese Foreign Minister Wang Yi reiterated that the decision is "obviously a wrong choice," and "the biggest issue affecting China-South Korea relations at the moment."  
In the meantime, several state media outlets called for the boycott of South Korean products. Some Chinese travel agencies have stopped selling trips to South Korea. Lotte, a major South Korean conglomerate that agreed to a land-swap deal with the South Korean government in February to provide a site for the anti-missile system, was hit particularly hard. It has been reported that 55 of the 115 supermarkets owned by the company in China were shut down by local authorities for various reasons.  
But China's formal retaliation against South Korea has yet to come. Following a warning issued by China's Defense Ministry on February 23 that "the Chinese military will make necessary measures to safeguard its national security," several senior military personnel have spoken on the issue. Wang Hongguang, former deputy commander of the Nanjing Military Region said China had measures in place and could deploy its own equipment before THAAD begins operations to neutralize its radars.  
In a commentary published by the Global Times, Luo Yuan, a military theorist at the PLA Academy of Military Science, warned that THAAD, if deployed, will be considered a high-risk target by the Chinese military, which would be destroyed if conflict erupted on the Korean Peninsula.  
Yet so far, China has limited its rhetoric of retaliation to South Korea alone. But analysts believe that in the long run, China may respond by increasing its investment in its own nuclear capabilities against the US.  
Calling the deployment of THAAD a "strategic provocation" by the US, an editorial published on March 10 by the English version of the Global Times argued that China should make it clear to Washington that the system's deployment will "definitely lead to China's increasing its nuclear prowess," including expanding its nuclear arsenal and upgrading strategic missiles to rebuild the regional balance.
With the prospect of a nuclear arms race ahead, some believe that the South Korean government, set for new elections and fresh leadership in two months following the recent ousting of disgraced former president Park Geun-Hye, could still change its position. But most analysts believe that THAAD's deployment in South Korea is irreversible for the moment.
According to the South Korean media, recent joint military exercises with the US have included a computer simulation of operating the THAAD system.  
With the disputes over THAAD set to escalate further, the North Korean issue is becoming increasingly intertwined with the rivalry and strategic distrust between Washington and Beijing.  
There is no doubt that the Korean issue will be top of the agenda at the upcoming first meeting between Chinese President Xi Jinping and US President Donald Trump. But it would take a miracle for the two sides to find a solution to solve what seems to be a classic security dilemma.